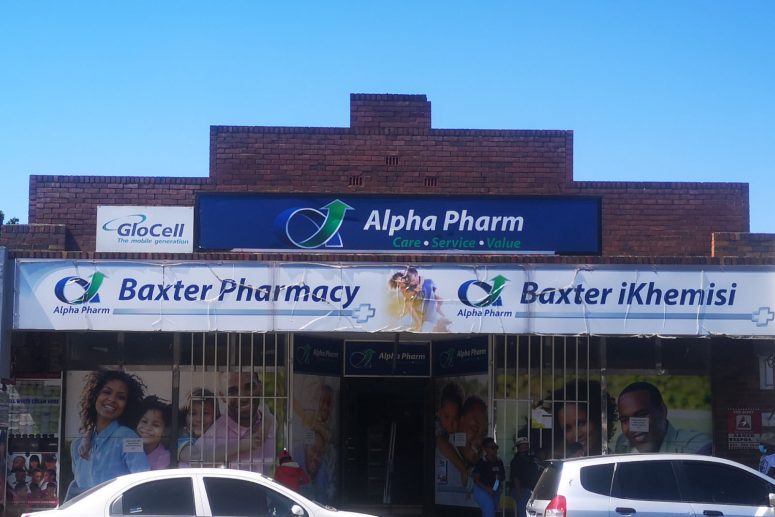 Baxter Pharmacy
426 church street, Pietermaritzburg
Baxter pharmacy has been operating for more than 25 years. We are located at 426 church street, in pmb. We have very enthusiastic and passionate staff who are always willing and ready to help. We provide services for the whole family; from new born needing vaccinations to the elderly who needs walking frames. Our responsible pharmacist is Nokwanda Mbhele, young, motivated individual who has the client's best interest at heart.
Alpha Baxter is a community pharmacy located in Pietermaritzburg cbd, owned by alpha cooperate. We provide a whole range of health care services and our staff always thrive to ensure that we provide the best services and care to our clients. Our friendly pharmacist and clinic sisters are always willing to go an extra mile to ensure that all our client's needs are met to their expectations.
We offer services ranging from:
Pharmacist initiated therapy including counselling on possible side effects of medicines, monitoring and evaluation of medicines, generic substitution, etc.
Well baby clinic
Family planning
Wound dressing
Hiring of handicap equipments such as wheelchairs, hospital beds, oxygen cylinders and lot more
Glucose and blood pressure checks
Ear checks and ear syringing
Medicine deliveries on request
Printing of images from the Kodak machine
Monday – Friday: 8am to 5pm
Saturday: 9am to 2pm
Sundays and public holidays: closed