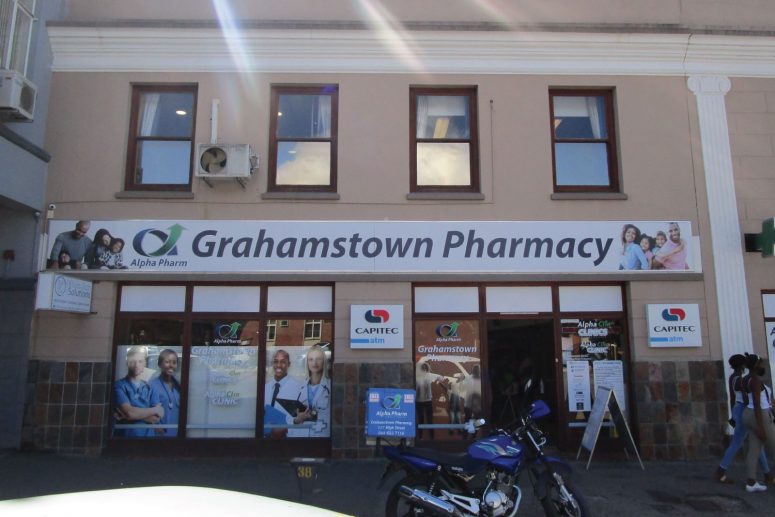 Grahamstown Pharmacy
Ideally situated in Makhanda (Grahamstown)
Grahamstown Pharmacy's responsible pharmacist, Lungile Mthetwa, speaks English and isiXhosa fluently and can help with all your pharmaceutical queries.  Other staff speak Afrikaans fluently too.  The pharmacy has short queues compared to its competitors.  It has many specials and exciting discounted products, and offers a free delivery service.
We print photos, which is a great help to those wanting ID photos or a pic printed quickly from their phones.
We are part of many major networks, such as Discovery, GEMS, Bonitas and many others through Alpha Script.
Alpha Script allows you to decrease your levies and receive an SMS when your medication is ready to collect each month, with great clinical reviews and medication counselling.
We offer generic substitution.
The pharmacy was opened before 1986. It was owned by Mr W.L. and Mrs A. Bosch from 1986 to 2019. The pharmacy is now part of Alpha Pharm Corporate. Its staff has largely remained the same since the pharmacy was bought by Alpha Pharm. It is located in High Street, the historical main street of Makhanda (Grahamstown). The building, known as City Chambers, was once the site of the city's first post office, which was destroyed by fire in 1899. The pharmacy is situated close to Rhodes University campus and the law courts.
We offer:
Quick dispensing with minimal queues
ID photographs
Photo printing
Monthly specials and a loyalty programme
Alpha Script
Ear piercing
Free delivery
Watch this space for a clinic!