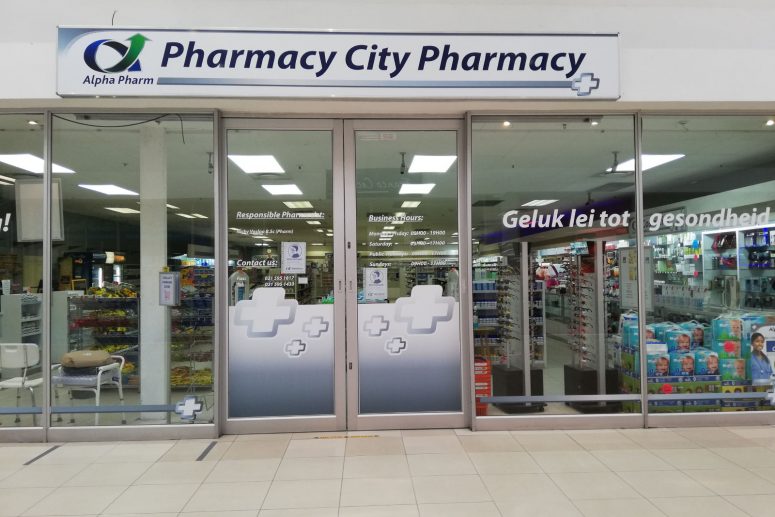 N1 Pharmacy City
Situated in N1 City Mall
Pharmacy City has never had a high staff turnover.  We have staff that have worked here for more than 30 years, the Responsible Pharmacist, Nicky Vosloo, included!
Customers also become friends.  Almost all of the customers are known by name and therefore we still have a "family pharmacy" atmosphere. Because of this and our fantastic customer service, we still maintain a high customer base despite having two other corporate pharmacies in the mall.
We are one of very few pharmacies that still do compounding.  For this reason, there are many specialist doctors that refer their patients to us for mixtures and such.
The pharmacist visits schools and old age homes; also giving lectures on request by, for example, the Parkinson's Society.  We try our utmost to support the community in the surrounding areas.  Old age homes and schools get frequent donations.
We pride ourselves in helping people swiftly to avoid long queues.  Our stock levels, as well as our range of products in the dispensary, are high.  People are seldom sent away empty handed.  It is always a pleasure to provide a customer with an item or medication that they found difficult to obtain elsewhere.
For us, a day at work does not feel like WORK !!  We do what we LOVE !!
Pharmacy City has been one of the anchor tenants in N1 City Mall since it was built in 1991. It was privately owned by a well respected pharmacist in the Western Cape, Mr Harry Singer, who retired four years ago. The pharmacy now falls very proudly under the Alpha Pharm Corporate umbrella.
* Fully stocked OTC counter for Over The Counter meds with qualified staff to attend to your needs.
* Well stocked dispensary with staff having YEARS of experience.
* Contracted in with almost all of the medical aids in South Africa
* Huge front shop with lots of ongoing specials in cosmetics, vitamins, baby, personal hygiene, fragrances and more.
* Hearing aid kiosk to test your hearing for FREE
* Kodak machine to print your own choice of photos.
* ID/passport photos at a nominal fee of R50 for 6 photos. Black and white or colour.
* Ear piercing done from age one year old at R140
* Nursing sister available for a wide range of services: Family planning with government stock, baby vaccinations with government stock, health screenings such as blood pressure, blood glucose and cholesterol. Removal of stitches and much more.
* Alphadoc: A service where the clinic sister and a qualified online doctor do a consultation at a nominal fee of R290. The doctor may also issue an acute or chronic prescription and a sick certificate.
* A full range of wheelchairs, commodes, crutches, walkers and other aids available at great prices.
* FREE delivery service to all customers in our surrounding areas.
* Alphascript: A service where your chronic repeat prescription is made up by our chronic department and ready for collection every month. No queues.
* Blister packing is done for old age homes in the vicinity at a nominal fee per patient. Blister packing for private patients can be arranged on request.
* FREE coffee or cappuccino at the pay point!
Mon - Fri 09h00 - 19h00
Sat, Sun and public holidays 09h00 - 17h00