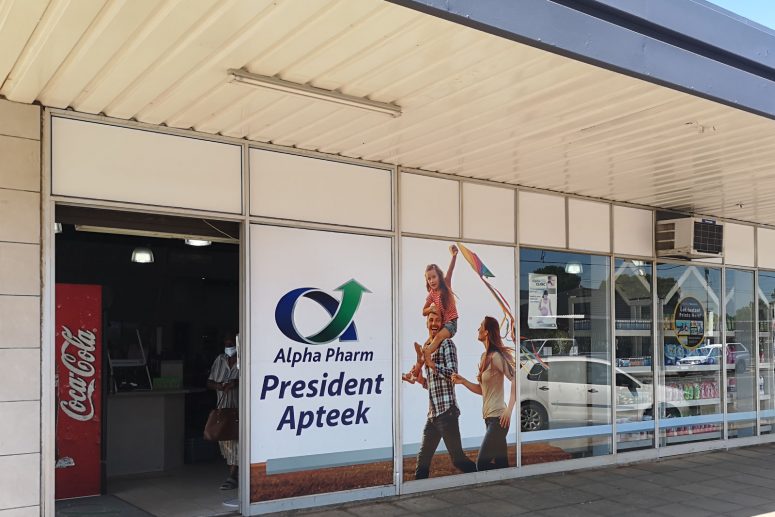 President Pharmacy
Situated at 59 Kerk Street in Fochville.
President Pharmacy is an Alpha Pharm community pharmacy situated at 59 Kerk Street in Fochville.
Being a small community we aim to know every patient on a personal level and by name giving them a welcoming feeling of belonging.  Going the extra mile is our mission.
We offer a range of services with our main focus to have a good relationship with our patients. We have a clinic with sister on duty who can also assist with Doctor consultations. We also do deliveries twice a day to make sure every patient is helped.
We offer a wide range of products and services ensuring we meet our client's needs, with our friendly staff always ready to assist and advise to the best of our abilities.
President pharmacy is about 100 years old and its focus has always been serving the community.
It was first owned by the Janetts and later in 2001 it was bought by Mrs C du Preez and in 2018 Alpha Pharm took over the pharmacy. In recent years there has been a lot of development in clinic services, for example the virtual Doctor consultations to help everyone.
Ear piercings
Prescriptions
Alpha Script
Kodak Machine: Photo Printing
Clinic: Blood Pressure
BMI
Cholesterol
Blood Sugar
Health risk assessment: containing the four above mentioned
Vaccinations
Urine Test
Wellness screening
Family Planning
Wound care
Eye test
Covid test
HIV Test
Drug test
Alpha Doc: Dr. Consultation
Ear Washout
Monday to Friday: 08:30 to 18:00
Saturdays: 08:30 to 13:00
Last sunday of each month and public holidays: 09:00 to 12:00