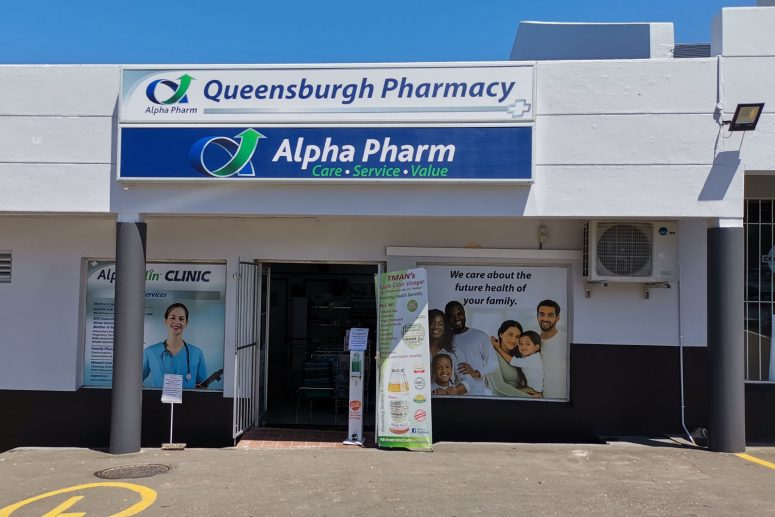 Queensburgh Pharmacy
Conveniently located in Malvern, Durban.
OUR PHARMACIST
Our Responsible Pharmacist is Jaqueline Cunningham B.Pharm. Jackie got her degree at Rhodes University and has worked as a locum pharmacist for the past 38 years.  Jackie is a vibrant, popular pharmacist who joined the Alpha Pharm group in October 2020 in the middle of the Covid pandemic.  Jackie was instrumental in making our move to the new premises, a smooth and successful transition.
She has welcomed our long-time customers to the new shop and brought in many new customers with her kind, compassionate demeanour.  Jackie is a friendly, experienced pharmacist, who is always willing to go the extra mile for patients and staff.
Queensburgh Pharmacy was first established in the early 1970's and has been a landmark in the Malvern, Queensburgh area. The shop has changed locations a number of times as the business has grown. We have served many generations of local families, watching children grow in to adults and bring their own children into the pharmacy.
We are currently situated in Shop 3A Coronation Walk, L6 Purity Lane, Malvern. Our Responsible Pharmacist is Jaqueline Cunningham B.Pharm.
Our Alpha Clinic Sister offers a full Clinic service with the Alpha Doc, Health and Wellness screenings, Family Planning, Baby Care, Administration of Injections, and Woundcare.
We offer the Alpha Script Chronic Medication Service for the customer's convenience.
Click Here to Visit Us Today!
Trading Hours
Monday to Friday - 08H00 to 18H00
Saturday - 08H00 to 17H00
Sunday/Pub. - Holidays 09H00 to 17H00