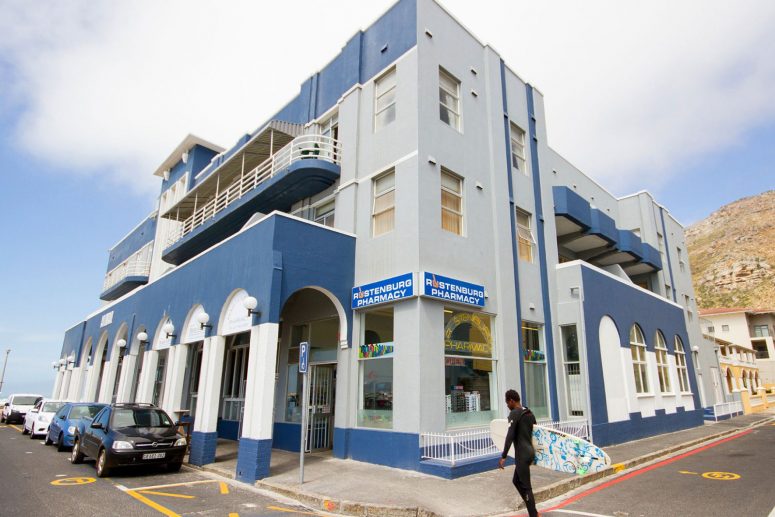 Rustenburg Pharmacy
A stone's throw away from the famous Surfer's Corner Beach, Capetown.
Rustenburg Pharmacy is a community pharmacy that has been serving the Muizenberg, Marina da Gama, Lakeside, St James and Kalkbay community for 36 years.
It is a stone's throw away from the famous Surfer's Corner Beach and the renowned colourful beach boxes.
We enjoy serving our customers as they are so varied, from long time loyal customers to the vibrant surfer community, holiday makers, international tourists, students and of course we love our customers from the retirement homes nearby.
Sandy Maclean has been working at Rustenburg Pharmacy since it opened in 1985, initially as a locum and then as a partner.  Sandy also lives nearby in Marina da Gama and has become an integral part of the community.  She has watched families grow and has customers who she assisted as children and now has their own families.
Leandri Meyer grew up in the Freestate.  She obtained her pharmacy degree from North-West University in Potchefstroom in 2013 and qualified as a pharmacist in 2015.  After a few years of working in Pretoria, she exchanged the hustle and bustle of the city for a life by the ocean when she joined the Rustenburg Pharmacy team in November 2019 as our second pharmacist.
We have also become somewhat of an information centre and regularly get asked for weather or surf reports.  We are happy to help in any way we can.
Rustenburg Pharmacy in Muizenberg was opened in March 1985 by pharmacists Gerald Musikanth and Eric Casper. Sandy Maclean, a pharmacist living in the area, started doing locums at Rustenburg Pharmacy. In 1987 Eric emigrated to Canada and Sandy became Gerald's partner. Gerald and Sandy worked together for 30 years and in that time incorporated Tockars Pharmacy and Atlantic Pharmacy into Rustenburg Pharmacy.
In 2015 Adam Mauerberger revamped the store and AlphaPharm bought Rustenburg Pharmacy in August 2018.
- Dispensing of prescriptions, OTC medication, Toiletries, First Aid, Vitamins
- Alphascript, our free chronic service

- Clinic services once a week
- Studex ear piercing
- Self-service photo printing
- Blood pressure monitoring
- Free local deliveries
- Patient centred care
- Easyblist solution (blisterpacking of medication)
Visit us Here Today!
Trading Hours:
Monday to Friday: 08:30 – 18:00
Saturday: 08:30 – 13:00
Sunday: Closed
Public Holidays: 09:00 – 13:00