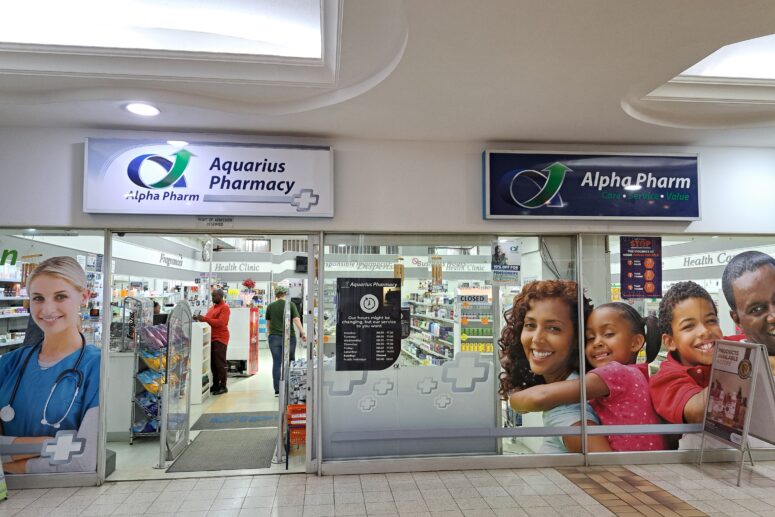 Aquarius Pharmacy
Situated conveniently in Toti Mall in Beach Road Amanzimtoti
The pharmacist Jackie Cunningham, together with her friendly and helpful staff, makes customers feel at home at the pharmacy and many have become friends. Aquarius Pharmacy has always been an Alpha Pharm Franchised Store and offers all the Franchise services. Being an Alpha Pharm Franchised Pharmacy they can offer a wide range of merchandise including own branded products which are competitively priced.
Amanzimtoti has a diverse community, from young families through to retirees from all parts of the country. It is in fact a popular place for people to retire to. We also supply many residents from the old age homes as well as The Elder's Voice.
We look forward to our holidaymakers who visit throughout the year. Many of whom return year after year and are happy to see familiar faces at their holiday pharmacy.
For continued personalised service, competitive prices, easy access, free undercover parking and free deliveries visit Aquarius Pharmacy.
Aquarius Pharmacy was opened in Amanzimtoti by Mr B.J.Burger in 1973. Sadly BJ, as he was fondly known, passed away in 2015. In 2017 Aquarius Pharmacy became an Alpha Pharm Corporate Store. Over the years Aquarius Pharmacy has taken over Bamber's Chemist, Kingsway Pharmacy and Lagoon Pharmacy and their customer's healthcare needs.
We are situated in Toti Mall in Beach Road Amanzimtoti and enjoy the support of the holidaymakers visiting our South Coast town.
We are contracted to most Medical Aids through our own Dispensary.
Wheelchairs, crutches and nebulizers can be hired at Aquarius Pharmacy.
We offer free deliveries from Athlone Park to Illovo.
Trading hours:
Monday - Friday 08h30 - 17h30
Saturdays 08h00 - 14h00 Public Holidays 09h00 - 13h00