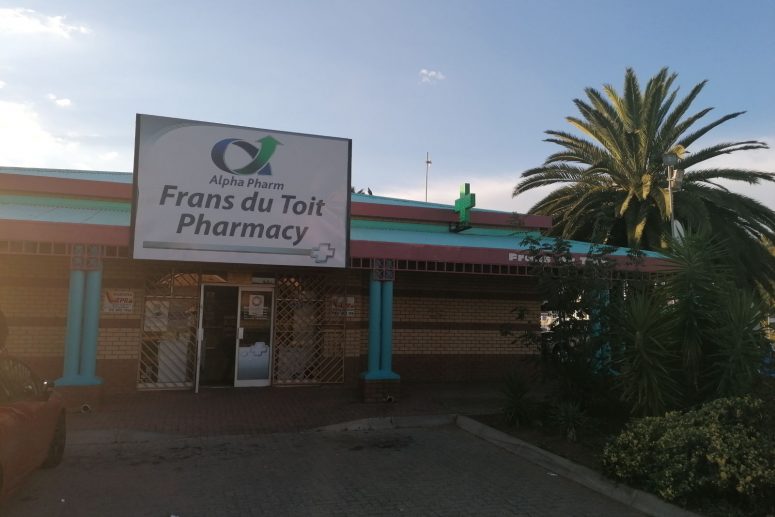 Frans Du Toit Pharmacy
Situated in the heart of Culemborg park
Frans Du Toit Pharmacy at the heart of Culemborg park is currently owned and managed by Alpha Corporate Retail group and Mr Fanie Coetzee. He is also our responsible pharmacist on site/ The team are always ready to serve your health care needs.
In a fast-paced corporate world of technology, our team at Alpha Pharm Frans Du Toit pharmacy are determined to keep up with the trends but to maintain the small community pharmacy feel, giving you convenience and personal care.
Established by the late Mr Frans Du Toit in 1979 the pharmacy is built on strong family values and traditions. We promise personal and attentive care to each patient. You can call ahead for your prescription to be readied or request a delivery of your script in town. We provide comprehensive patient counselling with each script filed, as well as prompts for script renewal and wellness screening reminders. We encourage patients to be involved in the dispensing process and respect for all individual preferences will be kept. The confidentiality of your information is of utmost importance. Our staff will provide empathy and respect for you, your family and any illness or condition you may have. With chronic medicine management through Alpha Script, you can have fast and efficient fills on your prescription and you still have the care of an inhouse pharmacist at your disposal. With easy access to a Doctor through Alpha Doc on site and the assistance of the friendly Alpha Clin clinic nursing Sister, you now have the convenience of all your Healthcare needs filled in one stop.
Free delivery in town
Medication adherence
Medication synchronisation
Pre-packing /Blister packing
Long term care services
Private consultations
Infant care
Cold and allergy medication
Feminine Hygiene products
Oral and dental care
First aid items
Vitamin ranges
ATM (capitec)
Clinic Services:
Family planning
Injections / Vaccinations
Primary health care services
Consultations
Vital sign monitoring
Rapid tests – Blood Glucose, Cholesterol, Haemoglobin (HB)
Urine test – PSA, Pregnancy, Urine analysis, Drug test
Wound care
Health Risk assessments (selected medical aids)
Virtual nurse consultations
Virtual Doctor Consultations (Alpha Doc)
Trading Hours
Mon - Fri 9am - 6pm
Sat -9am - 1pm
Sun -9am - 1pm